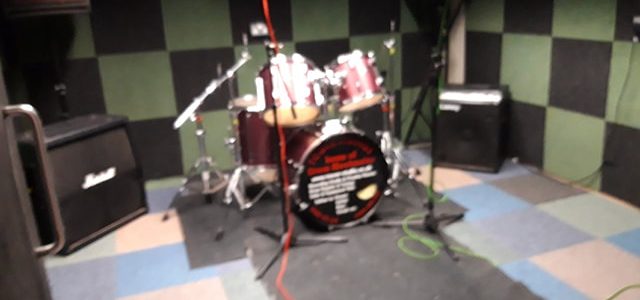 Studio 5
Is a band rehearsal room.
It normally accommodates a 5 piece band, but currently it's ideal for a 4 piece, where all band members can keep to the specified 2 metre distancing.
It is furnished with Premier APK 5 piece drum kit with hardware. 
Carlsbra Bass combo
1 Marshall 4×12 cab
A vocal pa. Vocalist please bring your own microphone, as I am unable to hire them out at the moment.
Drummers please bring breakables i.e. snare, cymbals, bass pedal, sticks.
If you forget, there's a small hire charge for the above breakables. 
Available from midday through to midnight. 
Price per hour. £18
Please leave the room as tidy as when it was hired. Any cans, food wrappers must be disposed of in the bins in reception