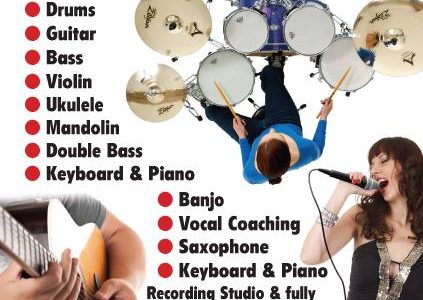 We offer Tuition in Drums, Electric guitar, Acoustic, Bass/ Double Bass, Piano, Vocals, Saxophone, Ukulele.
Teaching on all instruments from beginner to advanced standard.
All lessons are structured and thorough with work sheets given.
Lessons are conducted on a one to one basis.
Once the Student is at a playing standard, they have the choice to embark on the Rockschool syllabus.
Here they can attain their exam grades from 1 through to grade 8 with worldwide exam board Rockschool.
The studios continue to maintain a 100% pass rate.
There is no obligation for Students to work on grades; they will still learn the craft and all genres of music and production.
Lesson prices: £32 for a 60 minute lesson or £16 for 30 minutes
Money saving offers on a block of 8 x 60 minute lessons.
We offer lessons set up on standing order each month.
If you would like to know more details contact Chris Harvey